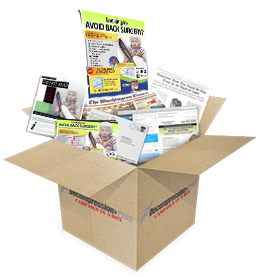 Campaign in a Box - DON'T READ THIS
For less than price of purchasing one newspaper ad from one of our competitors you get a full campaign including two advertorials, a display ad, a postcard, PPC text, and an in-office pop up poster.
Here is what is included-
Advertorials - Proven, professional that have been shown to generate dozens of phone calls and enquiries in both a one page and two page format.
Display Ad – Beautiful, effective ad for you local newspaper
Phone Blast Script - These cost pennies to run and can be very effective
4-Color Postcard - Direct mail to prospective patients for powerful lead generation
In-Office Pop Up Banner – Fully customizable, branded, in office display to solicit internal referrals
Lead Generation Ad: Simple cost effective solution to drive newspaper inquiries
PPC Ads: So you can take advantage of search and mobile marketing opportunities
STILL HAVE QUESTIONS??? NO PROBLEM!  Go to http://decompressionpros.com/campaign-in-a-box-dont-read-this/ to learn more
Disclaimer.  These materials are not actually sent in a box.  With the use of computers all of the files are sent digitally and ready to print.  The customer must actually print the materials including the poster for the front office.